The Kaipara Wallace Arts Trust - Award Winner
Glen Hayward
Fifty cent vs Counter Fate
2014
Rimu and acrylic
4 x 2 x 1.5cm
The 2014 Wallace Art Awards - Finalist
Evan Woodruffe
25th June
2014
Mixed media on linen
100 x 70cm
The 2014 Wallace Art Awards - Finalist
Matt Arbuckle
Show Me, Don't Tell Me
2014
Acrylic ink on found paper
41.5 x 65cm
The 2014 Wallace Art Awards - Finalist
Scott Gardiner
Effective Stress
2014
Direct to fabric, pigment ink print and acrylic on loose canvas
150 x 150cm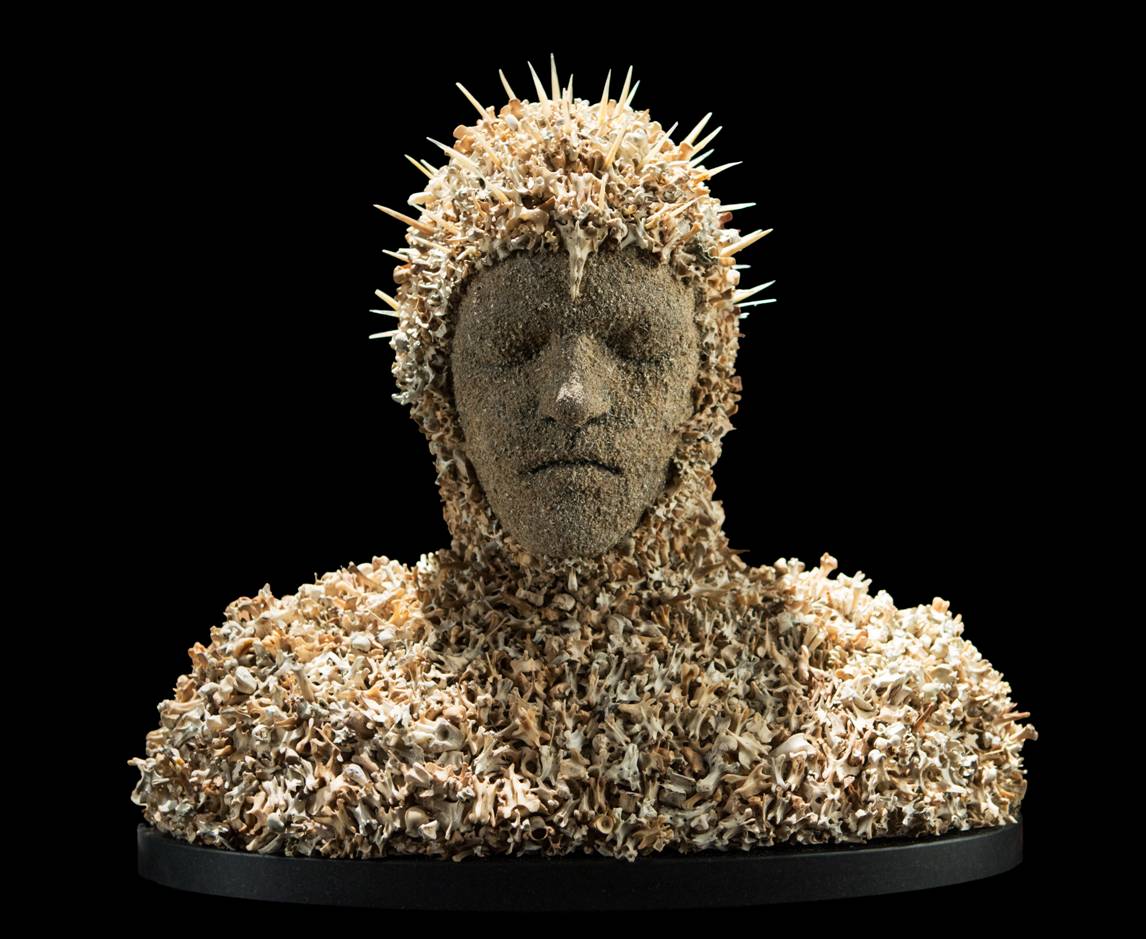 The 2014 Wallace Art Awards - Finalist
Bruce Mahalski
The Life-size Bust
2014
Bone, crushed bone on granite base
50 x 53 x 25cm
The 2014 Wallace Art Awards - Finalist
James R Ford
Things I don't need
2014
Household paint on Hahnemühle bamboo paper
100 x 100cm
Matt Arbuckle and John Pusateri
Evan Woodruffe, Installation view
The Wallace Art Awards, Gallery artist finalists, Pah Homestead, Auckland
The Annual Wallace Art Awards aim to support, promote and expose New Zealand contemporary art and artists. Sir James Wallace established the Annual Wallace Art Awards 23 years ago. These Awards are now the longest surviving and largest annual art awards of their kind in New Zealand, with a value amounting to over $195,000. They differ from other important New Zealand art prizes in that they aim to provide challenging opportunities and broadening experiences to the four major winners by way of residencies at top-class international institutions. Many of the winners and finalists of the Awards are purchased by the Trust each year to add to the Collection.
The Awards are given for contemporary New Zealand painting, sculpture, video, drawing and unique photography and print to encourage and develop the visual arts in New Zealand, and in particular to reward artists creating outstanding work.
The Judges for 2014 are Andrew Clifford, Andrew McLeod, Peter Panyoczki,Terry Stringer and Linda Tyler.