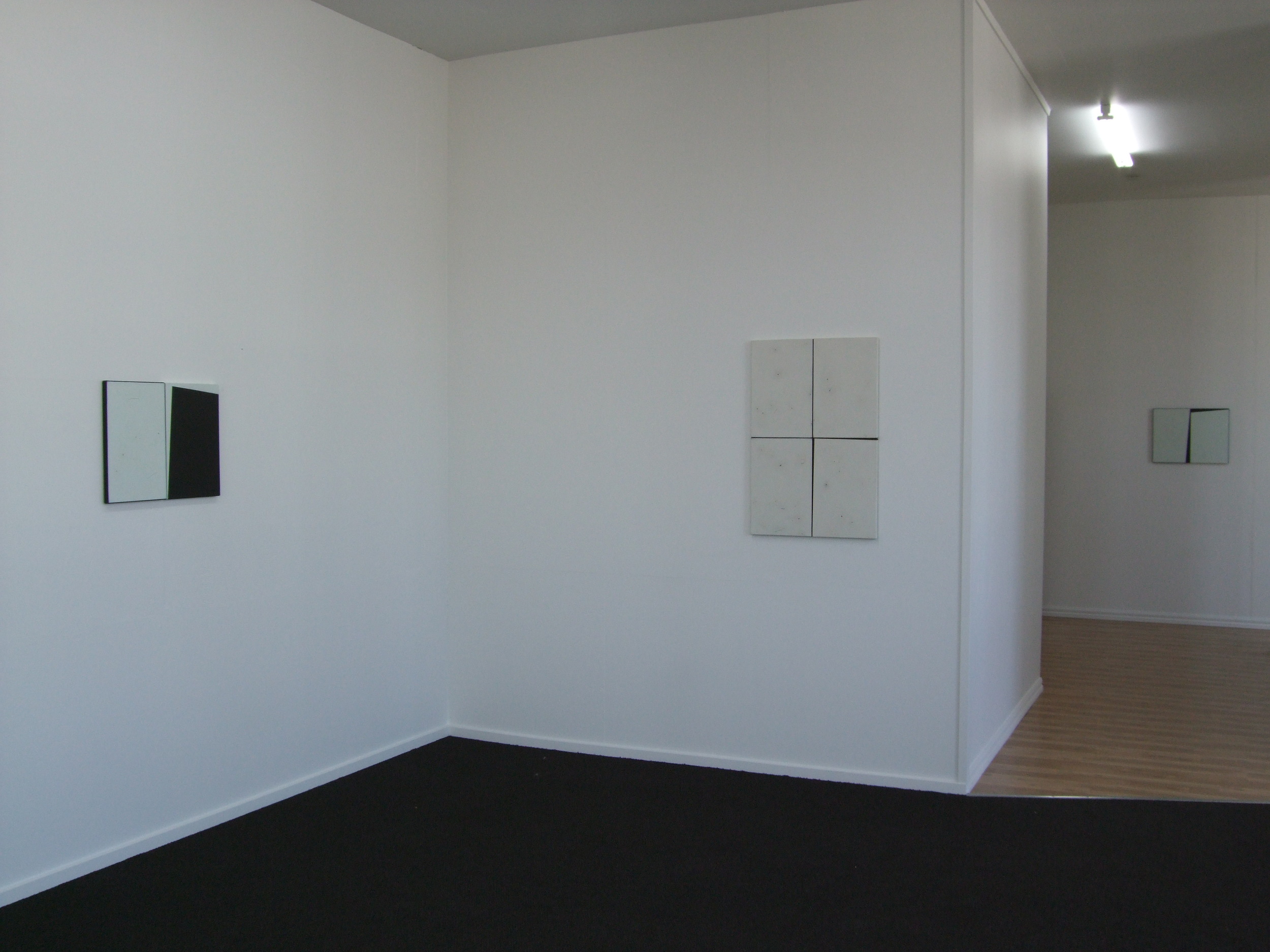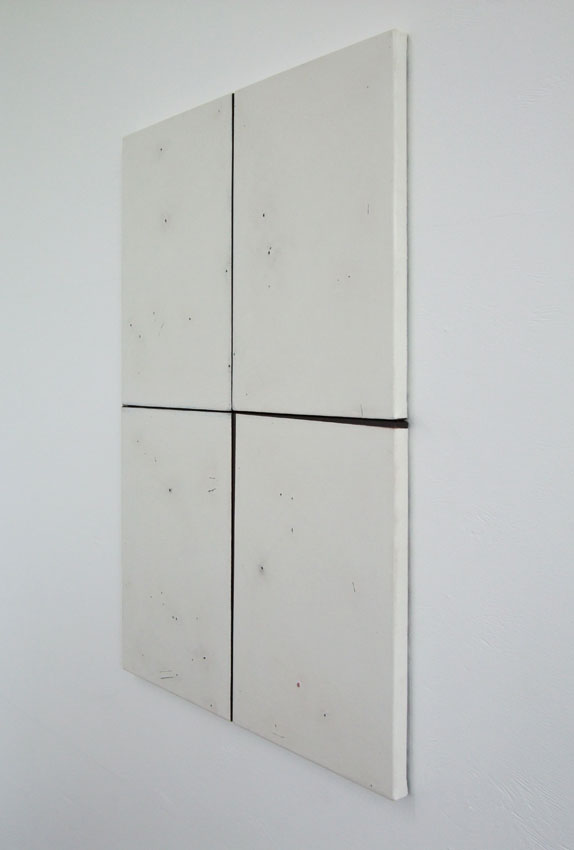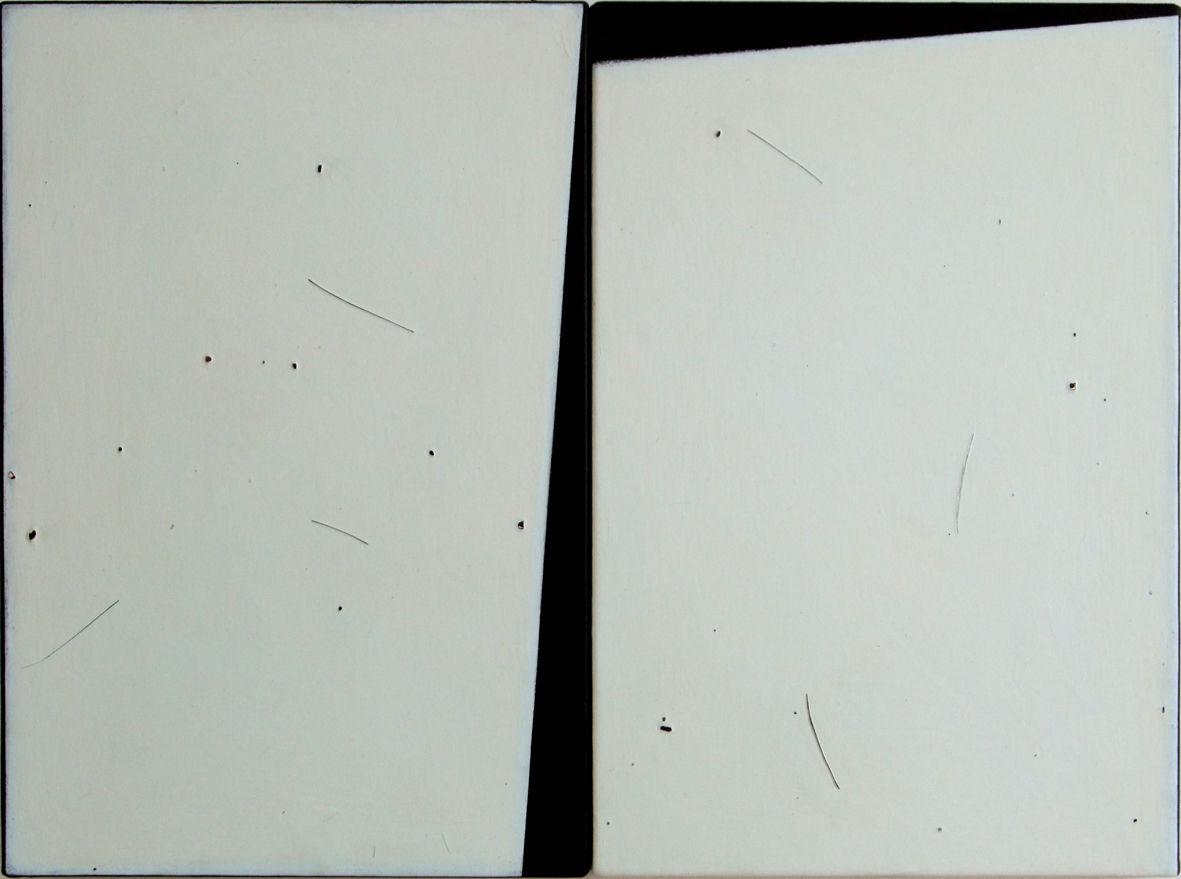 Peter Adsett, Matawhero: Bullet Holes and Bandages, 2-31 January 2009
In the series Matawhero, what defines a medium is not just the material surface being paint but the concept of the medium being 'doubting'. The work sets up expectations in the viewer only to foil them. Sameness and difference are caught in a continuous pulsing that makes any sort of definition impossible.
This is not an illusory movement of a represented image on a canvas but a real sensation in the viewer, a perceptual response to the disturbing shifts created by the materials and processes. The viewer may require other senses than just the eye, other concepts of painting than the mirror of our upright selves.
In the past 7 years I have been engaged in the task of destroying the metaphoric meaning attached to black and white. This has been partially achieved through an exacerbation of figure/ground shift by creating a material surface of black and white that initially invites the viewer to sublimate (to construct images) only to collapse those efforts. This is Matawhero's violence. In this way my work redefines the viewer as one who must negotiate a fundamental tension between the materiality of the paint and the metaphoric associations that sublimation leads to. One is therefore consciously caught vacillating between various zones of meaning. In the end meaning is left to the construction of the viewer.
It is in this space where the ground is no longer a support for image but a ground for negotiation that Matawhero explores an operation that opens a dialogue between Maori and Pakeha, between abstraction and non-western art of the region. Because it is not bounded by image but processes and materials the viewer enters the 'active now' where the logic is gerundive, that actively connects past to present and opens up present to future dialogue.
Peter Adsett was born in Turanganui-a-kiwa, Gisborne in 1959. He moved to Australia in 1982 and currently lives in Melbourne. All his works are from Abattoir, a division of MOA.
For many years Peter had heard about Matawhero and of the descendants buried alongside his great grandfather's burial site at Makaraka cemetery. It was not until his tertiary years guided by Cliff Whiting and Frank Davis that his understanding and knowledge of this area was challenged. Peter's education in the late 70's went to a much greater depth when he was introduced to the local Iwi at Muriwai in the late 80's in response to a project he was involved in and still is to this day. Threading its way through all these stories was Te Kooti and the descendants of Rongowhakaata. Peter's response is 'Matawhero: Bullet Holes and Bandages'.
Matawhero: Bullet Holes and Bandages opened at PAULNACHE, Gisborne in January 2009.
A selection of those 9 works, were exhibited with PAULNACHE at the Auckland Art Fair '09.
PAULNACHE represents Peter Adsett throughout New Zealand.