The Life-size Bust, 2014
(Detail) Bone, crushed bone mounted on granite base, 50 x 53 x 25cm
Specifics: A life-size portrait bust made from paper and wood as the base, crushed bone on the face and thousands of small bones from rabbits, possums, ferrets, stoats, a cat and numerous small birds. covering the rest of the object. The spines on the head are from a large Snapper. The piece is partly inspired by a life-size model in Otago Museum (Dunedin) of a Gilbert Islander wearing a helmet made from the skin of a porcupine fish but it also references the films – 'Hell-raiser' and 'Prometheus'. It stands on a granite base.!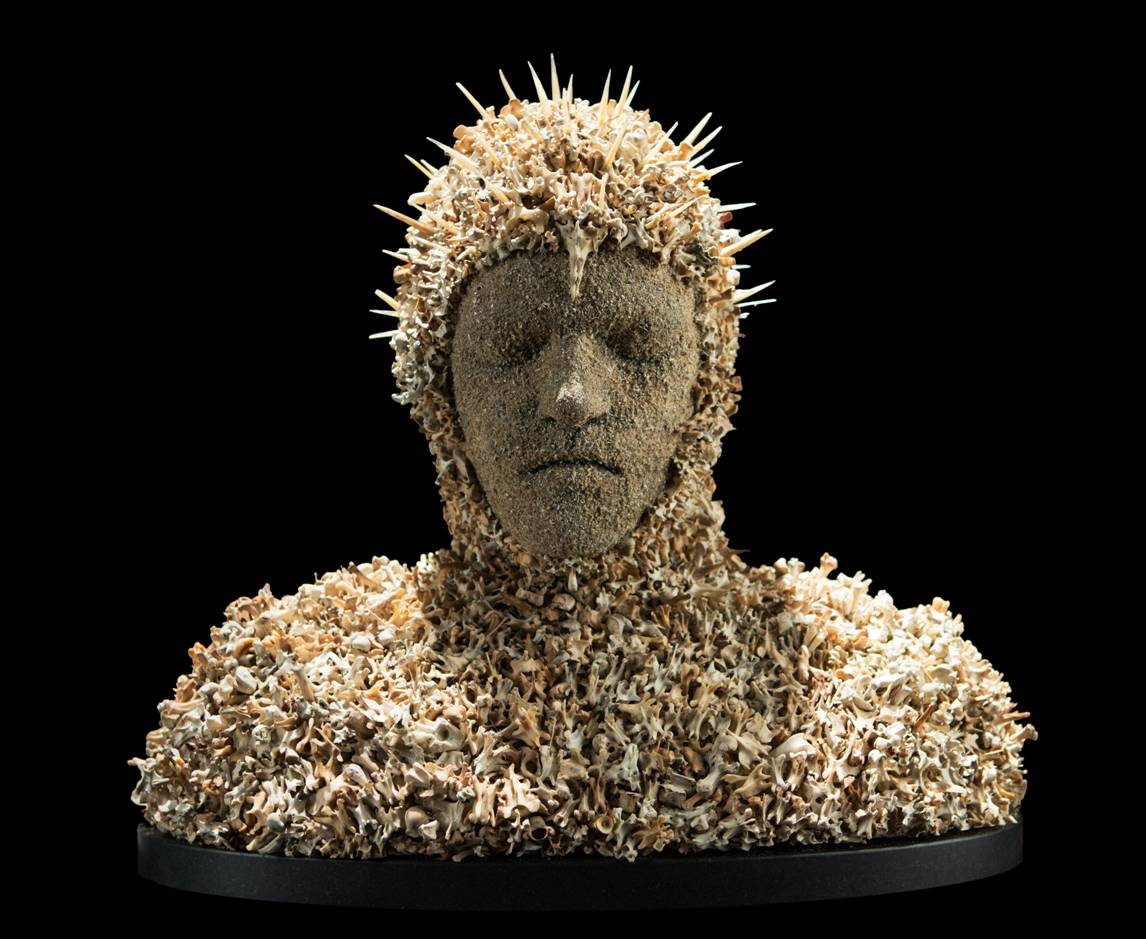 The Life-size Bust, 2014
(Front view) Bone, crushed bone mounted on granite base, 50 x 53 x 25cm
The Life-size Bust, 2014
(Side view) Bone, crushed bone mounted on granite base, 50 x 53 x 25cm
The Life-size Bust, 2014
(Rear view) Bone, crushed bone mounted on granite base, 50 x 53 x 25cm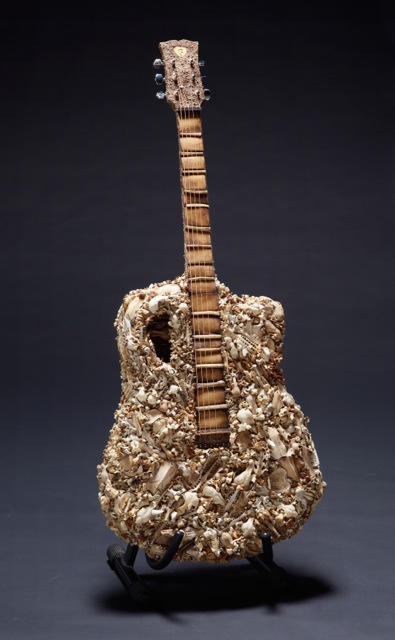 Bone Guitar, 2013
Wood, bone and crushed bone, 101 x 43 x 11cm (Wall or stand mounted)
Specifics: It has 35 skulls on it including hedgehog, stoat, weasel, rabbit, rat, magpie, hawk, gull, possum, Pukeko, duck, sparrow, thrush, sting-ray and part of an extinct Moa's jawbone. It also contains bones and teeth from a cat, dog, sheep, wild pig, cow, wallaby, swan, seal and snapper. It has featured in Guitar World and Guitar Player Magazines.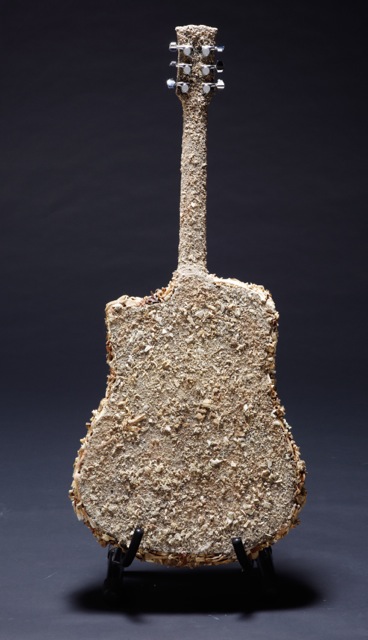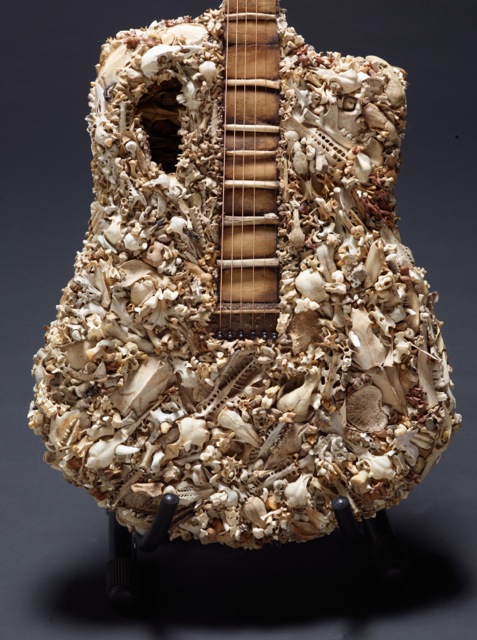 Life-size AK47, 2013
Bone over skeletal custom structure, 31 x 95 x 11cm on stand
Specifications: This Life-size AK47 features bones from rabbit, stoat, ferret, sheep, hawk, pheasant, wallaby, snapper, snake, blackbird, tarakihi, hedgehog, broad-billed prion, shear water, thrush, seal ,cat and possum (plus a single bone from the skull of an extinct Moa). It is displayed standing upright on two rods on a piece of recycled matai timber approx. 113 x 200cm.
Snapper Pistol, 2014
Bone in custom case, 36 x 52 x 11cm
Specifications: A gentleman's pistol made from wood and the bones and bony plates of snapper, barracuda and a rabbit skull. Installed within a free standing case (placed onto a precision mount) made from recycled native timber.
Two Ladies Dueling Pistols, 2014 (Fin)
Bone, wire, displayed on a black velvet cushion, 6 x 23 x 14cm
Specifications: It's insectivore versus marsupial with these two delicate ladies duelling pistols. One contains the skull of a ferret and the skulls and bones of its prey (small birds and mammals), while the other has the skull of a possum and its last meals. The fins and gill rakers of a snapper are also incorporated along with a human tooth on one of them – from a man recently convicted of black-mail in fact.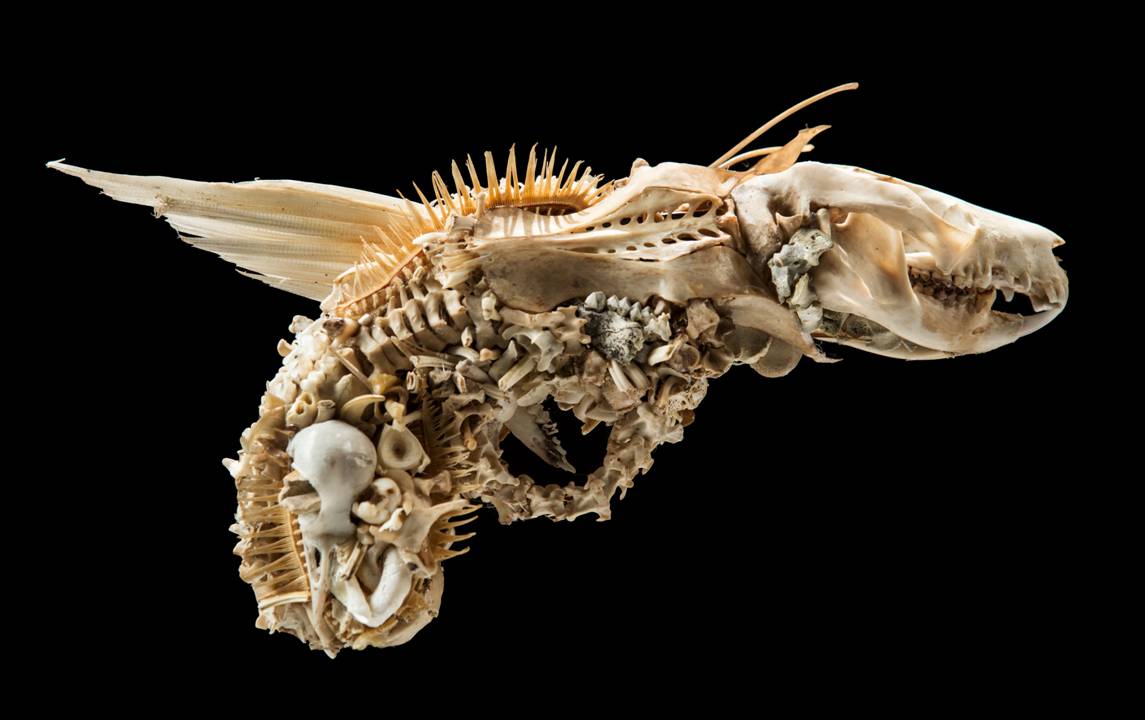 Two Ladies Dueling Pistols, 2014 (Fin)
Reverse side (detail) Bone, wire, displayed on a black velvet cushion, 6 x 23 x 14cm
Two Ladies Dueling Pistols, 2014 (Tail)
Front side (detail) Bone, wire, displayed on a black velvet cushion, 4.5 x 21 x 21cm
Two Ladies Dueling Pistols, 2014 (Tail)
Reverse side (detail) Bone, wire, displayed on a black velvet cushion, 4.5 x 21 x 21cm
Mahalski Industries
Bone Gun Schematics, Limited edition print, signed
Bruce Mahalski, Bone Sculpture, 1-24 May 2014